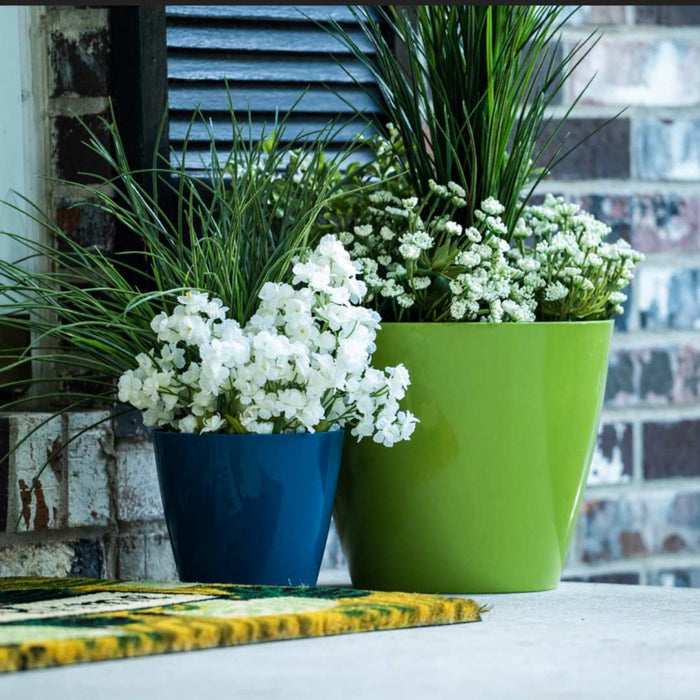 Charlevoix Planters - DuraRes™ - Robert Allen Home & Garden
Robert Allen Home & Garden Plastic Charlevoix DuraRes™ Planters
Why DuraRes™?
DuraRes™ is our premium plastic planter line.
BOGO: Our 4.5 and 6 inch DuraRes™ planters come in sets of 2
Durable High-Quality Plastic

 

- heavy duty plastic material holds your plant and soil weight with ease.
Vibrantly Colored - DuraRes™ planters are vibrant and colorful.
No Drip -No Mess - DuraRes™ planters have no drainage holes which are perfect for low-water plants (Tip: use Pon, LECA or a nursery pot with these planters!)
Suitable for Indoors and Outdoors

 

- beautiful enough for your living room, but UV coated for outdoor summer planting. (Not suggested for freezing temperatures)
Made in the USA
Dimensions:
4.5" = 4.7"X 4
6" = 6.1" X 5.4"
8" = 8.3"X 7.3"
10" = 9.8" X 8.7"
12" = 11.8" X 10.4"
Our shipping and return policy:

Shipping is always free and orders are shipped within 2 business days.

Returns are happily taken within 30 days of purchase. Buyer is responsible for return freight.
Questions? Comments?
Call us 8-4:30 CST at 402-269-3395

Open a chat from the bottom of this page

Email us at sales@robertallenhg.com
Thank you for shopping Robert Allen Home & Garden!